Green Nanotechnology: Why We Need a Green Nano Award & How to Make It Happen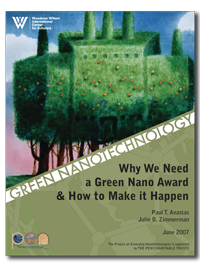 On June 28, 2007, the Project on Emerging Nanotechnologies released a proposed roadmap for the establishment of a Green Nano award at the 11th Annual Green Chemistry & Engineering Conference. The roadmap was developed by Paul Anastas and Julie Zimmerman of the Yale Center for Green Chemistry & Green Engineering. Dr. Anastas is a Professor of Green Chemistry and Dr. Zimmerman is an Assistant Professor of Green Engineering at Yale University. Dr. Zimmerman also serves as a Visiting Professor in the Department of Civil Engineering at the University of Virginia.
The Project commissioned this paper as a discussion piece in order to facilitate the launch of an award program that encourages advancements in green nano (e.g., cleaner and more efficient nano production processes and replacement of existing products with nanoproducts that are more environmentally friendly throughout their life cycles). The hope is that such an award would elevate green nano to a visible national and international priority, recognize innovative approaches to reducing or eliminating risks, and reward scientists and engineers working in this emerging area. This paper reviews the key issues that need to be considered before establishing an award for achievements in green nano. We hope that others will join us in this important endeavor as we begin the stakeholder process to develop and launch the award.
The Project is gathering feedback on this document. Please send comments to nano@wilsoncenter.org
June 29, 2007
Related
Topics