Terry Davies
Senior Fellow at Resources for the Future
J. Clarence (Terry) Davies is a Senior Advisor to the Project on Emerging Nanotechnologies, and Senior Fellow at Resources for the Future. Dr. Davies, a senior advisor to the nanotechnology project and a senior fellow at Resources for the Future, is one of the foremost authorities on environmental research and policy. He helped pioneer the related fields of risk assessment, risk management, and risk communication, and his work has advanced our understanding of cross-media pollution, the tendency of pollutants to move across boundaries, from air to water to land, revealing shortcomings in the legal and regulatory framework.
Davies served during the first Bush Administration as Assistant Administrator for Policy, Planning and Evaluation at the U.S. Environmental Protection Agency (EPA). Earlier, he was the first examiner for environmental programs at the Bureau of the Budget (now the Office of Management and Budget). In 1970, as a consultant to the President's Advisory Council on Executive Organization, he co-authored the plan that created EPA. Dr. Davies also was Executive Vice President of The Conservation Foundation, a non-profit think tank on environmental policy; Executive Director of the National Commission on the Environment; and a senior staff member at the Council on Environmental Quality, where among other activities, he wrote the original version of what became the Toxic Substances Control Act. He has served on a number of committees of the National Research Council, chaired the Council's Committee on Decision Making for Regulating Chemicals in the Environment, chaired the EPA Administrator's Advisory Committee on Toxic Substances, and served on EPA's Science Advisory Board. In 2000, he was elected a Fellow of the American Association for the Advancement of Science (AAAS) for his contributions to the use of science and analysis in environmental policy.
Davies is the author of The Politics of Pollution, Neighborhood Groups and Urban Renewal, Pollution Control in the United States, and several other books and monographs addressing environmental policy issues. A political scientist by training, Davies received his B.A. in American government from Dartmouth College, and his Ph.D. in American government from Columbia University. He taught at Princeton University and Bowdoin College, and has helped mentor a generation of environmental policy researchers.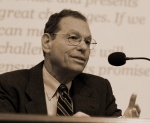 Senior Advisors
See Also